| | |
| --- | --- |
| Posted on July 9, 2016 at 2:25 AM | |
Healthy Swap: Adventures with Avocados
It can quickly become confusing when trying to choose a healthy fat option. Use this, not that arguments change daily. A constant good choice that is overlooked is the avocado. This fruit can be added to recipes as a substitute for fats or mayonnaise. They will add a creamy texture to puddings and smoothies. Adding an avocado to homemade dairy-free ice creams provides the rich creamy texture of the real thing. The health benefits of trading avocado for butter or cooking oils is amazing.
The avocado is a power packed fruit providing healthy fats that have been proven to lower total cholesterol and LDL cholesterol in clinical studies. In addition, the avocado is packed with potassium, vitamin K, vitamin E, fiber, magnesium, B vitamins except vitamin B12, vitamin C, phosphorus, manganese, copper, along with Omegas and fiber. If this were not enough, the avocado has the ability to improve absorption of carotenoids (antioxidants) from other foods, and conversion of beta-carotene into vitamin A. Adding a little avocado to your salad will help you reap the maximum nutritional value from those leafy greens. In the same way pairing avocado in meals with carrots or sweet potatoes improves nutrient absorption.
Not a fan of the flavor of avocados? Then try adding them to other foods rather than eating as a stand-alone item. Add avocado to a smoothie. Substitute pureed avocado for cooking oil or butter in baked goods (equal swap); reduce oven temperature by 25 degrees. Use ¼ cup mashed avocado to replace an egg in recipes. Another tasty swap is to trade pureed avocado for mayo in your favorite egg salad or chicken salad recipe. It provides a rich creamy texture without over powering flavor. Try substituting avocado for part (or all) of cream cheese in recipes. Use pureed avocado in dips instead of sour cream. Whether you have special dietary needs or are just looking for healthier fat substitutions, the avocado is your answer.
Need more? Avocados have 0 grams of sugar, making them a diabetic-friendly food. They are also gluten-free, and vegan friendly. The potassium in avocados helps to break down carbohydrates more effectively. Add to the mix being a good fiber food and this fruit has the potential to improve weight management. With the wealth of health packed in a serving, consider swapping this option in some of your recipes.
Avocado Mango Salsa —make 5 (1/2 cup) servings
1 mango, peeled and diced
1 avocado, peeled and diced
1 plum tomato, diced
1 clove garlic, minced
1 jalapeno, seeded and diced
1/4 cup chopped fresh cilantro
2 tablespoons fresh lime juice
1/4 cup chopped red onion
salt and fresh pepper to taste
Directions:
Combine all ingredients and marinate for at least 30 minutes before using. Great as a topping for chicken, fish or stand alone chunky dip.
| | |
| --- | --- |
| Posted on March 13, 2016 at 1:20 AM | |
1 Tbsp. extra virgin olive oil
½ small onion or 1 small shallot, diced
1-2 garlic cloves, diced
1 can (14-15.5 oz.) cranberry (borlotti, Roman) beans, drained and rinsed
1½ Tbsp. finely chopped fresh parsley, divided
1/2 Tbsp. finely chopped fresh thyme or 1/2 tsp. dried thyme leaves
Pinch crushed red pepper flakes, optional
1/3 cup reduced-sodium vegetable or chicken broth*
2 tsp. fresh lemon juice (about 1/8-1/4 medium fresh lemon), and its zest
Salt and freshly ground black pepper
In 2-quart saucepan, heat oil over medium heat. Sauté onion until translucent, about 3 minutes. Add garlic and sauté until softened, about 30 seconds. Add beans, 1 tablespoon parsley, thyme and red pepper, if using, and sauté 1 minute. Add broth and bring to a boil. Reduce heat to simmer, cover and cook 5 minutes. Remove lid and cook 5 minutes. Remove from heat.
Stir in lemon juice and some zest. Season to taste with salt and pepper. Garnish beans with remaining parsley and remaining zest. Serve warm as side dish with fish or chicken with vegetables and whole grains or as a main dish over brown rice with mixed greens salad. • If planning to serve beans over brown rice as main dish, use ½ cup broth for extra sauce.
Per serving: 158 calories, 5 g total fat (<1g saturated fat), 22 g carbohydrate, 8 g protein, 9 g dietary fiber, 449 mg sodium.
| | |
| --- | --- |
| Posted on February 20, 2016 at 2:00 AM | |
Seared Sea Scallops with Spiralized Carrots and Caramelized —serves 4 (diabetic-friendly, dairy-free, substitute for gluten-free)
1 pound sea scallops

1/4 teaspoon salt

1/4 teaspoon ground black pepper

1 Tablespoon olive oil, divided

1 large onion, thinly sliced

2 cloves garlic, minced

2 large carrots, spiralized (or peeled with a vegetable peeler or julienned with a mandolin)

1/3 cup dry white wine

1 Tablespoon minced fresh chives

2 2/3 cups cooked whole wheat pasta*
Remove tab from each scallop, if needed. The "tab" is a side muscle, which may or may not still be attached to the scallop. It feels and looks like a little tab and is tougher than the scallop itself. If the tab is still attached, gently pull to remove it. Pat scallops dry with a paper towel.
Season on both sides with salt and pepper. Add 1 1/2 teaspoon olive oil to a nonstick sauté pan over high heat. Sear scallops on both sides until just barely cooked through, about two minutes on each side. Remove from pan and set aside.
Add remaining olive oil to the pan and reduce heat to medium. Add onion and sauté until caramelized, about five minutes. Add garlic and carrots and sauté three minutes. Add the wine and cook until all of the liquid is reduced.
Add the scallops and any accumulated juices to the vegetables and sauté three minutes to finish cooking the scallops through. Stir in the chives. Serve 1 cup of the scallop mixture over 2/3 cup of the whole wheat pasta.
*substitute whole wheat pasta if desired.
Per serving: Calories 270, Protein 20 g, Fat 4.5 g, Sugar 5 g, Fiber 5 g, Cholesterol 30 mg, Sodium 370 mg, Potassium 470 mg, Carbohydrates 37 g.
| | |
| --- | --- |
| Posted on January 1, 2016 at 2:00 AM | |
Satisfying Detox Soup—serves 6
(diabetic friendly, gluten-free, vegetarian, dairy-free)
Ingredients:
1/4 cup water (or vegetable broth)
1/2 of a red onion, diced 2 cloves garlic, minced
3 celery stalks, diced
3 medium carrots, diced
1 small head of broccoli, florets
1 cup chopped tomatoes
1 tablespoon fresh ginger, peeled and minced
1 teaspoon powdered turmeric
1/4 teaspoon cinnamon
1/8 teaspoon cayenne pepper, or to taste (optional)
Fine-grain sea salt and black pepper, to taste
6 cups water (or 4 cups vegetable broth + 2 cups water)
2 cups kale, de-stemmed and torn in pieces
1 cup purple cabbage, chopped
Juice from 1/2 of a small lemon (or a whole lemon, depending how much lemon flavor you prefer)
Directions:
In a large pot, add the water and turn on the heat to medium-high. After it's hot, add the onion and garlic. Sauté for 2 minutes, stir occasionally. Add the celery, carrots, broccoli, tomatoes and fresh ginger. Stir and cook for 3-5 minutes (until vegetables are tender), adding in extra water or broth as needed (another 1/4 cup). Stir in the turmeric, cinnamon, and cayenne pepper plus salt and pepper to taste.
Add in the water or vegetable broth and bring to a boil. Reduce heat and simmer for 10-15 minutes or until vegetables are soft. Add in the kale, cabbage and lemon juice near the last 2-3 minutes of simmering.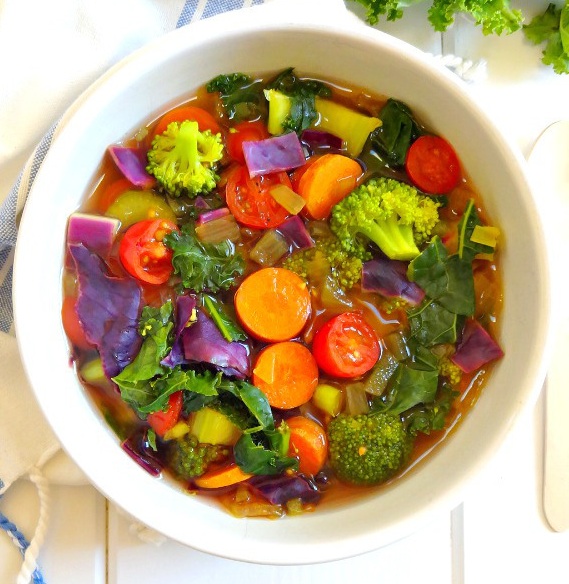 | | |
| --- | --- |
| Posted on November 13, 2015 at 2:05 AM | |
Gluten-free, diabetic friendly, dairy free
2 Tbsp. olive oil
4 (4-oz.) skinless, boneless chicken breasts
Salt and freshly ground pepper, to taste
2 large cloves garlic, minced
1 tsp. spicy brown mustard
2/3 cup apple cider
1 medium granny smith apple, sliced lengthwise1/8-inch
1 medium red apple, sliced lengthwise 1/8-inch (e.g., Gala, Fuji or Pink Lady)
8 cups packed fresh baby spinach
Directions:
In large skillet, heat oil over medium-high heat. Season chicken with salt and pepper. Sear chicken, cooking 6-7 minutes on each side until browned. Remove chicken and let sit a few minutes.
Cut chicken into 1-inch pieces, cover and set aside to keep warm.
To skillet, add garlic, mustard and cider and stir to combine well. Add apple slices and reduce heat to medium. Let simmer 5-6 minutes, stirring often.
Return chicken to skillet. Stir occasionally as sauce thickens, about 4-5 minutes.
Add spinach to skillet. Stir until spinach is wilted, about 2 minutes. Serve hot.
Per serving: 257 calories, 9 g total fat (1 g saturated fat), 17 g carbohydrate, 28 g protein, 3 g dietary fiber, 139 mg sodium.
| | |
| --- | --- |
| Posted on November 13, 2015 at 2:00 AM | |
Gluten Free, dairy free, vegan
1 cup black quinoa, cooked 

¾ cup gluten-free all purpose flour
¼ cup cocoa powder
½ tsp. cinnamon

½ tsp. allspice 

¼ tsp. salt

¼ tsp. baking soda

½ cup organic virgin coconut oil
½ cup beet sugar
¼ cup unsweetened applesauce

½ tsp. organic vanilla extract
½ cup allergy-friendly chocolate chips
Directions:
1. Preheat oven to 350° F.
2. In a bowl, combine quinoa, gluten-free all-purpose flour, cocoa powder, cinnamon, allspice, salt, and baking soda until quinoa is evenly coated.
3. In a separate bowl, cream together coconut oil and beet until smooth.
4. Add applesauce and vanilla extract; mix until fully incorporated.
5. Add quinoa mixture and combine until dough is formed.
6. Fold in chocolate chips.
7. Scoop 1 inch cookies and press flat 2 inches apart on a cookie sheet.
8. Bake in prepared oven for 14 to 16 minutes. Serve warm and enjoy!
| | |
| --- | --- |
| Posted on November 13, 2015 at 2:00 AM | |
Cauliflower Couscous—serves 4
1 head cauliflower, in florets

2 tablespoons garlic flavored coconut oil
½ cup red onion, chopped 

¼ cup roasted red pepper, chopped 

¼ cup toasted hemp seeds
1 teaspoon cumin

2 tablespoons parsley

¼ tsp. salt
Directions:
In a food processor, pulse cauliflower until it resembles couscous and set aside.
In a large pan, melt garlic-infused coconut oil. Add onion and roasted red pepper and sauté 3 to 5 minutes, until onion is softened.
Add toasted hemp seeds, cumin, and cauliflower. Sauté an additional 10 minutes, until cauliflower is tender but firm. Remove from heat and add parsley until fully combined. Serve warm and enjoy!
| | |
| --- | --- |
| Posted on November 13, 2015 at 1:55 AM | |
Popped Amaranth Parmesan—serves 4 (gluten-free, dairy-free, vegan, diabetic friendly)
Ingredients
2 teaspoons organic coconut oil
1 ½ cups organic amaranth
¼ cup shaved parmesan

½ tsp. black pepper 

Directions
In a hot skillet place 2 tsp. of coconut oil. Allow the coconut oil to melt and slowly add 2 tsp. of amaranth at a time, allowing for the grains to pop like popcorn.
Add parmesan and black pepper to the popped amaranth and serve immediately.
| | |
| --- | --- |
| Posted on November 13, 2015 at 1:50 AM | |
Rice Flour Crepes—makes 12 Gluten free, Vegetarian, Vegan (with substitution), Diabetic friendly
Ingredients
1 cup white rice flour
1 cup rice milk (I used Rice Dream Original) or other milk
2 eggs (or equivalent egg substitute)
Mix all ingredients in medium size bowl. Batter should be thin but not runny. If too thick (similar to pancake batter), thin with a little rice milk. Heat skillet or crepe maker. I used a small non-stick pan on medium heat.
Quickly pour and spread ¼ cup of batter in pan. These cook quickly so spread the batter as you pour into pan. Cook about a minute and then gently flip for a few more seconds. First side should be lightly browned when flipped.
Remove from pan and set aside. Repeat until all batter is cooked.
Filling
1 can coconut cream (you may use cream cheese or a mixture of the two)
sweetener if desired
Whip coconut cream with a touch of sweetener (if desired). You may use wire whisk or electric mixer. Work quickly to incorporate air and "fluff." For a firmer texture add a little arrowroot powder (about a teaspoon).
Directions for combining
Spread a heaping tablespoon of coconut fluff (or cream cheese blend) on each of the crepes. Gently roll up the crepe and place in serving dish.
Toppings
You may use any topping you desire. Here are some suggestions
fresh blueberries thickened with a little arrowroot powder. I add a small amount of Ceylon and Vietnamese cinnamons. A few drops of Agave nectar helped offset the bitter of cinnamon.  
 fresh apples gently cooked and thickened with arrowroot powder. Again the same cinnamon blend and agave were added. 
 NOTE: These are versatile crepes. You can place fruit filling inside the rolled crepes for a differing flavor. The crepes are also adaptable to serve as roll-ups for breakfast sandwiches or lunch with protein additions. As rice serves to sooth the digestive tract, carefully choosing filling and topping choices makes these crepes acceptable for many with digestive tract issues as well.
| | |
| --- | --- |
| Posted on November 13, 2015 at 1:20 AM | |
Pear Ginger Quinoa Crumble—serves 8
Ingredients
cooking spray
1 1/2 pounds Bosc pears (about 4 pears), cored and sliced
1 Tablespoon 100% maple syrup
1 Tablespoon fresh lemon juice
2 Tablespoons chopped candied ginger
1/2 teaspoon pure vanilla extract
2 teaspoons arrowroot or cornstarch
1/8 teaspoon salt
Crumble Topping
1 cup quinoa flakes (if not available use rolled oats)
1/4 cup pecans, finely chopped in a food processor
1/4 cup 100% maple syrup
1/4 teaspoon dried nutmeg (freshly grated is best)
1/8 teaspoon salt
Special Equipment: 8 ramekins (3-4 ounces each) or 9 X 5 loaf pan
Directions
Preheat the oven to 375 degrees F.
Mist ramekins with cooking spray. In a large bowl, mix together the pears, maple syrup, lemon juice, candied ginger, vanilla, arrowroot and salt.
In another bowl, mix crumble topping ingredients until well combine.
Portion the pear mixture into the ramekins. Spoon the crumble topping mixture over the pear mixture in an even layer. Bake 35 minutes until the fruit is bubbling and the topping is golden.
Remove from the heat and allow to cool for 10 minutes before serving.
Nutrition: Serving Size 1/2 cup Calories 170; Calories from Fat 32; Total Fat 3.5g; Sodium 80mg; Carbohydrates 34g; Dietary Fiber 4g; Sugars 18g; Protein 2g